Passenger's side...

The bus arrives at the bus stop... Door opens. I get on aboard, too many people as usual... Shit. Is that a decent way to be transported really?... You must push to get in! Ok, some space seems available at the rear of the bus... but everybody stays stuck at front... So annoying. Finally the bus leaves it's stop after some time, but not to fast... no rush for him (...but ME I am late!).

Someone knocks at the door but the driver (I can see there is one: I see him in the mirror!) doesn't open and keeps on looking at his left and slowly moving his big machine... Really not kind. He could have stopped and open this door, that would'nt have been much... tss.

Ok, I have to take also bus 91. Where will I find this one? The guy must know...

I hardly elbow my way through the bus crowd to get back to the driver and ask him...

- To take bus 91, where do I get off?...
- "Port Royal" is the answer I get. No more explaination... Very well... Not a very commercial attitude really! ...and after that they'll be surprised to be attacked or have argue with others! ...When they will have understood that...

.

.

.

.

.

.

.

.

...Driver's side

The bus arrives at the bus stop... I lock the brakes and press the buttons to open the doors. Passengers jump in, rushing inside and looking at the back of the bus... No look at me, no pass showed... no smile. It is now several hours I'm driving this bus, doing again and again this action every twominutes... Impersonal flood of... persons who boards in without saying a word. Don't feel like smiling either now. Too bad.

I finally made it to shut the doors. Now I must leave the stop and turn left to do that and engage in the traffic... As they see me slowly doing that, the cars speed up to pass me... one, two... three... then four, five... I have to gently force my way to manage that... with much care looking at left side... But someone is know knocking at the door as I'm engaging the traffic: too late! Stopping now would be dangerous... The next bus is four minutes later... Not a big deal! I hear the guy saying some insults. Well, sorry!

- To take bus 91, where do I get off?... shout someone at my right side. No "Hello" neither, or a simple "Please"... I answer "Port Royal", with no smile or politeness... Why should I? I'd be polited if they were polite with me! ...When they will have understood that...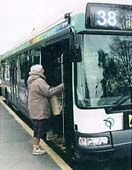 Such a trite example... to describe the usual relation between drivers and passengers in Paris buses. So boring.
We could do something to change that. You, us... it would be so easy to smile to each other, to say hello... It's not much... and it does bring a lot...
The unpoliteness and despise's mesh is definitely not a fatality. When we will ALL have understood that...

Relationships in big cities like Paris are not very easy... Stress, traffic jam, crowd, noise... and Paris citizens known for not being very friendly and talkative sometimes!... None looks at the other, respects the other... This is probably the most boring thing we're facing each and every day in our work driving the bus for you.



Although, with a very little effort, it can get much better... A simple smile makes life much easier!

That is what we try to do in our buses... even though it is not very easy everyday... The drivers of the line having long rides and duties in the crowded streets of the city. Not much to smile at... So seeing people smiling (which is coming rare these days!) is like a relief really... and it can change everything!

It's probably ours first to welcome you aboard with a gentle look... but you know, it's seems so rude to us when someone's boarding in the bus without saying the basic 'Bonjour'... This isn't a good start really, and it happens so often that smiles seems to disappear from our faces too at the end! It shouldn't be so... and we don't want it to be so!

So please, when you'll be in Paris, boarding our buses, DO NOT HESITATE to smile and say 'Hello' to the driver... Even if you think you can't speak good french... it doesn't matter really! Smiling is international, and it'll make your stay much easier. That will be really most appreciated by us... and we'll be happy to help you, as much as we can, finding your way in the city.

It's very easy!.. Let's try it on with a few basic words :