Bus lanes

New bus lanes have been settled since the end of August. They are now 4,5m wide and strictly reserved for buses, taxis and bicycles. A small sidewalk is build to separate the bus lane from the cars. Of course the bus riding has much improved and is faster than before in these lanes, but outside (as you can see on the picture) the traffic is much worse for the individual cars and trucks. So is it for us anywhere else...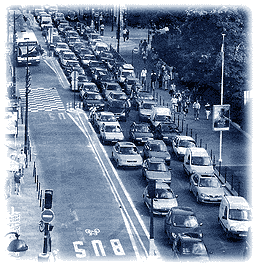 It is resulting huge bottlenecks, and this is an attempt to discourage the car drivers who don't really need their car to use it all the time, and prefer the urban transportation such as buses and metro or, why not, more ecological ways like bicycles, rollerblades...
Paris, such a beautiful city is, for years, dying under the traffic jam. Something had to be done. Hope this is it... Hope too will be added a push to the buses system with more vehicules availables and bus drivers engaged to carry the amount of new passengers in result.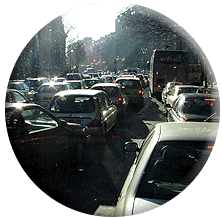 In 2004, most of line 38, will be equipped with these larger and protected tracks and we do hope our service will be better and faster for the passengers... and the drivers!... but we also hope you'll find enough buses and seats. Future will tell... If not, please be indulgent with the drivers. They can't do much about it!...
Also, the buses on line 38 are now equipped with digital cameras pointing to the front and back of the bus, to take nice pictures of everyone who parks and uses the bus lane: Pictures and fine will be sent under three days at his home...