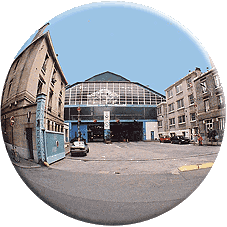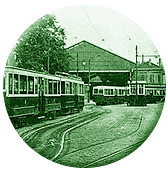 The building of the depot was build in 1900, but the history goes back to the middle of 19th century.
It was a very large hall with two levels where were parked 158 buses for about 600 drivers among several lines including:
21

28

38

67

88

216


and night buses Noctiliens

N14

et le

N21
The offices of the bus company (RATP) and the depot (parking, repairs) were at 73 rue du Père Corentin, 75014 PARIS. They have now moved avenue Jean Jaurès in Bagneux (suburbs of Paris)

360° inside view
143 Ko (QuickTime VR required)

At the entrance, some petrol pumps and a washing machine were used before parking. Buses needing repairs were driven to the second level of the depot where used to stand the workshops.
At anytime of the day, including night-time, mechanics were working on buses.
The depot's buses ride each year over 7,5 millions of kilometers.
This depot has been destroyed for building a new one and some apartments above. Work started in June 2013. End of works, maybe 2018(?)... All buses will be parked at the "temporary" depot in city of Bagneux (suburbs) in the meantime.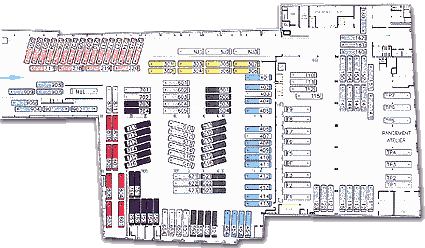 map of the old depot.