Bus 38 History
...The line since it's creation... and, generally, Parisian buses since their creation ;-)
---
---
...and continues in 1854 with horses coaches...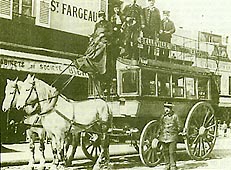 150 years passed before the idea of public transportation came back, under the push of Sir Godon in 1819, and Dubourget and Vandrion in 1824 (propositions denied by the administration), and then, in 1828, of Sirs Baudry, Boitard and Saint-Céran with comprehensive help of Police Prefect, Mister Belleyme, under the form of a coach service called "omnibus".
Very quickly, success grew among the users, and many other coach companies came in the game for a hard competition. This resulted of several ends for some and fusions for others.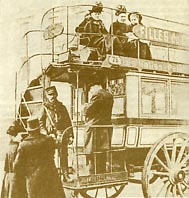 In 1854, only eleven companies with very funny names were left (Omnibus, Dames réunies, Favorites, Béarnaises, Citadines, Gazelles, Excellentes, Hirondelles Parisiennes, Tricycles, Constantines, Batignollaises), and the expanding of Paris and the

number of it's citizens was at the origin of a reorganisation and constitution of only one company in 1855: The Compagnie Générale des Omnibus (CGO) was born!
A man called Mister Loubat who had just organized in New York a tramway system proposed his idea to put on horse drawn coach service on tracks.
It is only in 1900 that these will be replaced by a new system of electrical tramways. This year also, the first metro line "Vincennes - Porte Maillot" will start.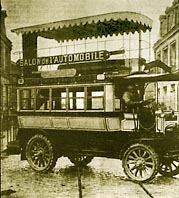 This period was also the big start of car industry and, in 1905, the CGO begin to put on duty some buses. The first one will be a steam system car "Serpollet", then, after a contest organized by the CGO, a "Brillié-Schneider" (picture here) wan.
The craze for public transportation kept on growing and many companies were added to the CGO. The number of lines were multiplied (92 for 12 companies), and another reorganisation had to be done from 1910 to 1913.
War went unfortunately to put an end to the expanding system and most of the material was requisitionned. The conditions of exploitation started to be very hard and tramway companies showed a growing deficit from year to year despite the fare's increases.

Another unification of the system seemed unavoidable. On January 1st, 1921, the "Société de Transports en Commun de la Région Parisienne" (Company of Public Transportation in the Parisian area or "STCRP") starts to use the surface transportation system. This company put together the all former different transportation systems, as well as all their employees. This system includes then 112 lines for 960km and 1775 motor coaches, 785 carriages and, for the buses, 41 lines with 734 buses. 26000 agents were employed at that time.
Over 50 types of motor engines were used then and over 40 types of carriages. The longest task was then to replace the old material with a new and unique one.
After many trials and essais, a new motor engine tramway called "L" appears in 1924 on what is today the bus 38 line, and was known at the time as line 8. It's route was very similar as the one still used by our line today:
Porte d'Orléans (Montrouge)- Place Denfert Rochereau - Luxembourg -
- Place St.Michel - Palais de Justice - Chatelet - Portes St.Denis et St.Martin - Gare de l'Est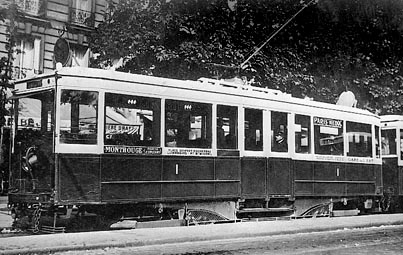 Tramway de la ligne 8, Montrouge/Porte d'Orléans - Gare de l'Est (1924)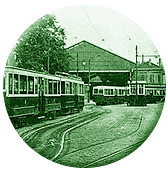 From 1925 on, the tramway system in Paris starts to be disliked as putting some traffic problems in the crowed streets of the city. Also, the great improvement in the bus construction put the authorities to prefer generalize this new mode of transportation.

This started the end of wealthy days for tramways in Paris... and this mode of transportation disappeared progressively between 1930 and 1937, replaced by buses from the Renault & Panhard Companies.
There was 3138 tramways against 1733 buses in 1930... to end with 7 tramways against 4067 buses in 1937! The very last tramway riding in Paris is on March 14th, 1937.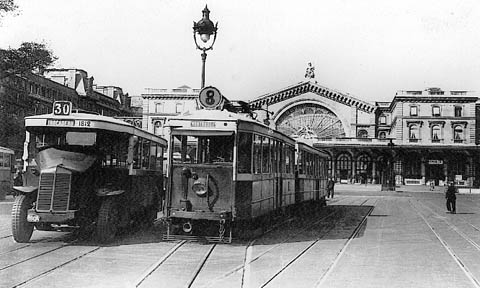 Bus et Tramway face à la Gare de l'Est (1935)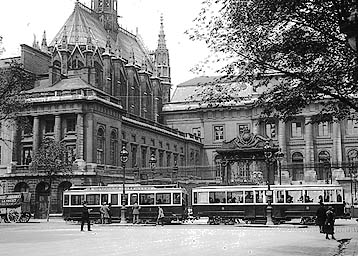 Devant le Palais de Justice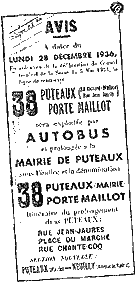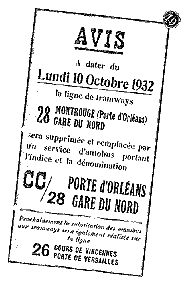 The number of passengers transported by the STCRP is about a thousand millions. This number will decrease afterwards, with the compete of metropolitan and the company will show another deficit during these years.
Many line's replacements and changes were settled... and line 28 of tramway, will be replaced by a bus service called "CC/28" on October 10th, 1932.
(The line called "38" at the time was used by a bus riding from Mairie de Puteaux to Porte Maillot.)
On August 30th, 1936, tramways of line 8 are also ending their duty. From August 31st, some "OA", buses model "TN4-H" were parked at Montsouris (the actual depot) and are used for this line.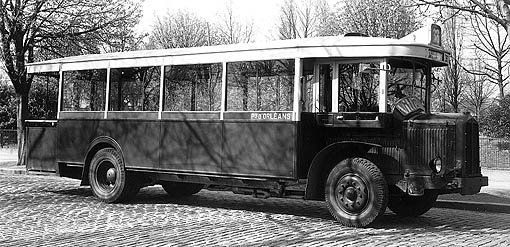 TN6-A vestibulé
It is only after World war II, that a new system of busline numbers will be settled in Paris in order to be easily read and able to locate geographically the line. A two numbers serie is set: The first of the two numbers indicate the terminal stop inside Paris.
2 - Opéra - Saint Lazare
3 - Gare de l'Est
4 - Gare du Nord
5 - République
7 - Louvre - Hotel de Ville
9 - Montparnasse
6 and 8 - For the secondary point, 6 for right side of the river and 8 for the left side.
The second unit indicates the other terminal: 0 or 1 if inside Paris, and from 2 to 9 for the peripherical suburbs.
20 - Gare Saint Lazare - Gare de Lyon
21 - Gare Saint Lazare - Place Saint Michel
28 - Gare Saint Lazare - Porte d'Orléans
etc...

and so our line became...
38 - Gare de l'Est - Porte d'Orléans
and today, extended to Gare du Nord, one mile ahead.