Bus 38 History
...The line since it's creation... and, generally, Parisian buses since their creation ;-)
---
---
History starts back in 1662 with "five sols" carriages...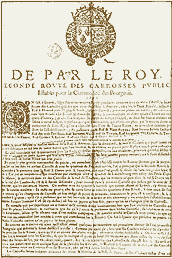 It is in the Paris of Louis 14th, having already more than 500.000 citizens, that appeared for the first time a public transportation service. The Duc de Roannès, Gouvernor of Poitou, the Marquis de Sourches Grand Prévôt de l'Hôtel and the Marquis de Crenan, Grand Echanson de France asked from the king, permission to establish, in the city and suburbs of Paris, horse drawn coaches "leaving at regular schedules and riding continousely from a district to another". This privilege came to an agreement on January 19th, 1662.
The Royal letter of february 7th, 1662 specified that the vehicles "should be used for a grand number of people like "plaideurs", handicaped persons, etc... who could be this way driven in coach for a not too expensive cost... ; to know the longer trips for five sols marquez, and less for the others".

On March 18th, 1662, 7 coaches of the first "five sols coaches" did ride the streets leading from the Porte-Saint-Antoine to the "Luxembourg".
During year 1662, some other lines were put on duty. Each line had at the time three coaches, heavy and uncomfortable machines with eight seats. They stopped only to let, when asked, travellers boarding or getting off...
The rules applied between lighters and farmers indicated that "to avoid long time fare exchanges of money that cost much time, we will not going to take gold".
It was also signified "to know each coast is stamped and has a sign at top of sheeps on both sides of coachman's seat, with Lys flower... with a number. So we ask the ones who would have any matter to complain of coachman to remember the sign of the coach and give advice to the offices's clerk in order to make the appropriated duty".
The beginning of transport system was glorious, but the parliament of Paris when registering the agreement letter of the king, add some restrictions concerning the quality of passengers. The use of the coaches was reserved for burgesses and "condition people", and then "soldiers, pages, servants and other low classes fellows, will not be authorized to board those coaches".
This restrictions, and so the the fare increase that went from five to six sols, and competition with rented coaches drawn the company to it's end in 1680.