Some nice meetings
Some of the people who made the move to come here and meet us in Paris...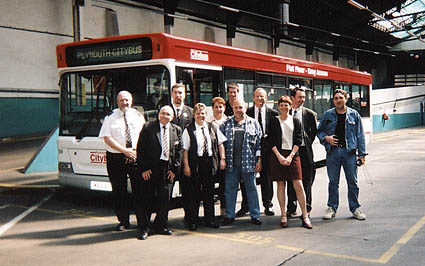 A team of bus drivers from the city of Plymouth (England) came to visit us on April 22nd 2002 with a regular bus from their depot.
Nice moments meeting the two teams together... differents uniforms, but same work ;-)
It was a very interesting day and all the team was really friendly.
They were authorized to park their red and white bus in the depot, and then we started a little visit of it, showing our installations and exchanging points of view and experiences about our job.
It was much fun for us to sit on the right side of the bus as a british bus driver... Didier (here) enjoyed it very much as you can see!...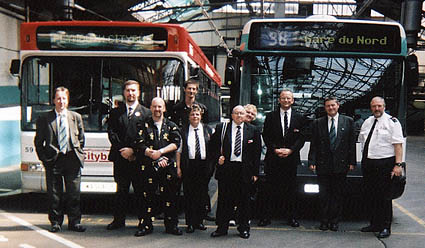 Side by side, Plymouth Citybus et Bus 38...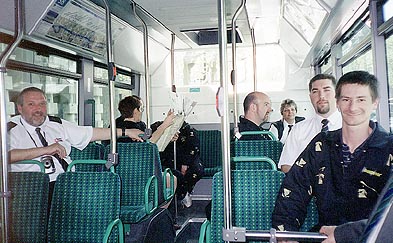 A 'special' trip aboard bus 38 was organized for the occasion... The route has a little changed then, and went by the Eiffel tower, the arc de triomphe, Champs Elysées, Louvre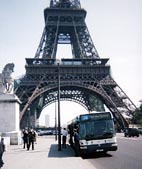 museum, Notre Dame... Not quite like the line is used to... But, well, compared to what we're generally used to, nobody complained about this route change...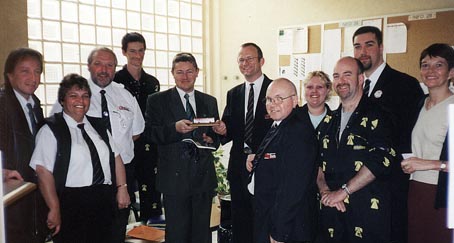 Exchanging small gifts in the drivers's layover room.
Here, Jean-yves, the bus 38 line's manager
is receiving a small Plymouth City bus from Mike.
A really very nice day !
---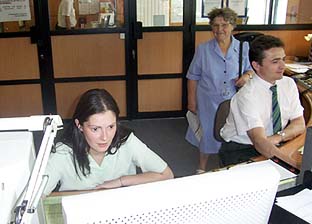 Charlotte (at the regulation room in the terminal)
---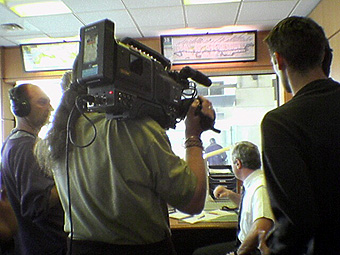 A film production from the Budapest's television came in Paris to make a report about line 38, at the end of April 2003. Many drivers (and passengers) were interviewed for this 52mn film, and bus 38 was pictured all along it's route beside the most touristic places in Paris in a very interesting documentary where you can see Paris through a bus 38's sight... and discover Paris on it's human side as well as it's funny places and historical monuments... A really good film with nice pictures which impressed us a lot.
The idea of such a documentary came to the producer after having visited bus 38's website!! ...and some similar films may follow with bus lines numbered "38" in other cities in the world like New York or London...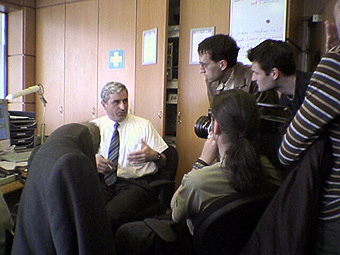 You can see them here, filming Gilles, a former bus 38's driver and now regulator.