Seen from the bus
Some funny pictures taken by our drivers along their rides...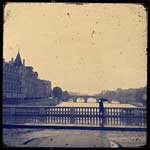 Rainy Day
View from bus driver's seat, crossing the Seine river on a rainy day
---
View from bus driver's seat, crossing the Seine river on a rainy day
---
Funny cat...

Sometimes, riding on bus 38, you can catch funny scenes in the parisian streets...

Here, for example, a cat laughing at you, somewhere on a building... But where is that?... No clue? : Click here!
---
The Lion was gone!
The huge Lion, statue of Sculptor Auguste Bartholdi was removed from the Denfert Rochereau place during summer 2001, in order to be fixed. Strange sight of the area with no lion at his place... Everything is back to normal now and the Lion of Belfort is now on his throne again.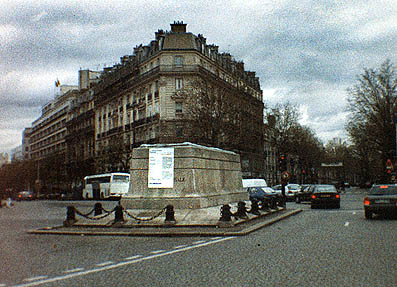 Picture by Arnaud.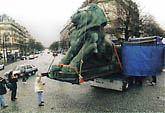 ---
Don't move!

Bus 38 locked at it's terminal Porte d'Orléans when the chineese president Hu Jintao was passing with his limousines on January 25th, 2004...

Many bareers were put all along to lock completely the avenue and stop any traffic.

No doubt this president thought he liked parisian non-existent traffic...
---
Past present

It sometimes happens, when driving our modern buses, to cross the way of some ancient buses "Tn4" (1930) showing off their good shape and noisy retirement...

This picture was taken by Arnaud at Port Royal.
---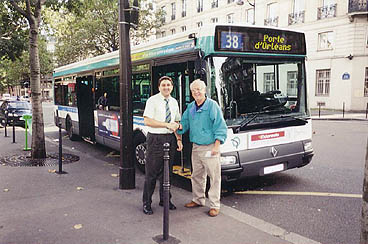 Wade (Hillsdale, New Jersey -USA) with Arnaud (oct. 2001)
Visits...
Many people from all over the world came to us for a real visit of our line 38 after the 'virtual' visit on the website! You can have a look at the pictures taken for the occasions...
---
..Pictures by Laurent.

Our bus stops during the
Jean-paul Sartre's funerals (1980)

Avenue du Général Leclerc
---
Reflections around the Gare du Nord

Images taken from the bus by Didier in the streets surrounding the station

Here at right, Saint-Quentin's market.
---
You can send us your pictures about Bus 38 wherever it has been taken in the world
Please click here to do so... Thank you !